IELTS Academic Writing Task 1. Sample 2
You should spend about 20 minutes on this task.
The diagrams below show the changes that have taken place at West park Secondary School since its construction in 1950.
Summarize the information by selecting and reporting the main features and make comparisons where relevant.
Write at least 150 words.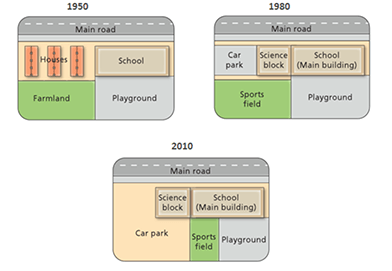 How to answer this task?
Introduce the maps.

Write what do they illustrate.

Note the changes that occurred.

Look attentively at the maps and note what was modified and what remained unchanged.

Describe each element of the map in a separate paragraph.

Tell about each element (farmland, car park, school etc) and its alteration. Use vocabulary for graph description and linking structures. Also see words from academic wordlist.

Give a general overview.

Write in brief about the changes.
Model answer
The pictures illustrate the changes, which have taken place at West Park secondary school from 1950 to 2010.
Firstly, significant alterations occurred to the farmland, it was redesigned to a sports field in 1980 and then to a car park in 2010. There was an expansion of the car park in 2010 and the sport field was placed between the car park and the playground.
Moreover, substantial changes happened to the houses. They were removed from the map, car park and science block taking their place.
Furthermore, a science block was added to the school building in 1980 and playground was reduced in size. However, the locations of the playground and school were not modified.
In contrast, the main road remained unchanged throughout the period.
Overall, farmland and houses disappeared from the map, playground was abridged, and there were built science block, car park and sports field.
(151 words)